Posted By Joan Pont on January 9, 2012
We have a new name: the Tamalpais Weavers' Guild has changed its name to the Tamalpais Fiber Arts Guild.  And just in to time to welcome our January speaker, preeminent fiber artist and teacher Carole Beadle.  So calling on all students who have every been inspired by her, please join us.
PROGRAM  – January 16, 7 pm, Marin Art and Garden Center, (in the Marin Society of Artists Gallery on the right), 30 Sir Francis Drake Blvd, Ross
CAROLE BEADLE – JOURNEY OF A FIBER ARTIST
Carole will inspire us and create introspection through the chronological evolution of her work.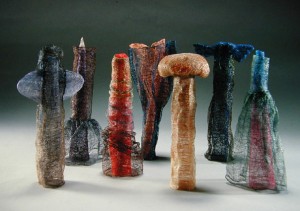 BIOGRAPHY
Carole is one of the pioneers of fiber sculpture and has been teaching at the California College of the Arts and the College of Marin. Her groundbreaking work in the field of fiber sculpture has been exhibited
nationally and internationally. Most recently, Beadle participated in two artist-in-residences in France, accompanied by three major exhibitions. She studied in Swedish Lapland with the Scandinavian
Seminar for Cultural Studies and was a Fulbright Scholar to Norway.  Some of her work can be viewed at www.fiberdimensions.com/beadle/.