Posted By Web Manager on December 19, 2012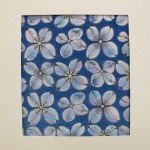 The cyanotype procedure was discovered in England by Sir John Herschel in 1842.  He used it to reproduce his notes and diagrams and thus the word "blueprint" became part of our vocabulary.  Anna Atkins, who was reputed to be the first woman photographer, discovered she could lay plant specimens on treated paper and once they were exposed to the sun and the chemical reaction stopped, she would have a silhouette image in blue and white.  Today cyanotype is still used in photography and you can even convert your photos to look like they have been processed using this technique through the miracle of photo editing software.
Read more on cyanotype here.