Posted By Web Manager on January 8, 2013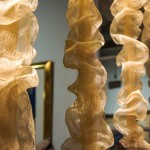 Official opening is tonight, January 8 6pm-8pm!
Show lasts through the month of January.

Room Art Gallery is proud to present our first show for the New Year, Artist/weaver, Peggy Osterkamp. Peggy Osterkamp has been known nationally for her teaching and instructional books about the art and techniques of weaving for 30 years. Few people knew that she was creating art pieces during this long period of time. Now she feels it is time to share her creations with art lovers.
Her work ranges from richly textured, tapestry-like hangings to "critters" fashioned from woven pieces. They range from whimsical little pieces, to soft, pale, gossamer ones which seem to float on the wall. Her sheer, ethereal "Ruffles" are currently hanging in the window of the gallery and seem almost transparent. They shimmer and turn as the air flows around them. "While I'm weaving ruffles, it seems like I'm weaving the invisible and I feel the fine threads of silk more than I can see them."
"Agne, Owner of Room Art Gallery, is drawn to my small, delicate, sheer pieces, which float in plexi-glass shadow boxes so they will be featured in the show. There are other highly textured pieces that were woven as flat, gauze-like cloth with special threads that puckered greatly. I've played with controlling the puckers-sometimes humbled by their own movements." – Peggy Osterkamp
"Structure fascinates me and I have often joked with it. My threads camouflage the most basic or elegant weaves. Creating for me is like lifting a veil to explore more about myself and my skill." – Peggy Osterkamp
 Room Fine Art Gallery is located 86 Throckmorton, Mill Valley, California 94941.