Posted By Web Manager on March 28, 2013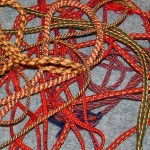 Time to Start Thinking about the Lanyard Competition.
Are you making a lanyard for the CNCH 2013 competition? Have you started yet??? If you signed up during registration to make one, you probably read the instructions in the booklet and know that this will be used to hold your registration packet. But, if you are like me, you keep procrastinating and haven't gotten down to the nitty gritty of actually making one yet.