Posted By Joan Pont on April 12, 2013
News Flash – Monday, April 15, 2013, 7 pm, Tamalpais Textile Arts Guild meeting, taking place at the Marin Art and Garden Center, Marin Society of Artists Gallery, 30 Sir Francis Drake Blvd, Ross. Come get inspired.
Lauren DiCioccio is an emerging artist primarily working in textiles based in Brooklyn and the Bay Area.  She explores the themes of nostalgia and the poetry of the every-day as well as ideas about our changing environment and mass-production in a series of meticulously created hand-embroidered and sewn sculptures.  By translating objects like the New York Times or a National Geographic magazine or plastic "Thank You" shopping bag into the language of craft, she aims to bring attention to our relationships to these disposable or obsolescing items and to reflect their human qualities.  Lauren is represented by the Jack Fischer Gallery in San Francisco and has shown her work at the Yerba Buena Center for the Arts, San Jose ICA, Kala Art Institute, and Bellevue Arts Museum.  Her work is currently on view in a solo show at Tomlinson Kong Contemporary in New York City and will be part of a group show of work from the Recology Art-at-the-Dump residency program at the SFO Airport Museum this spring.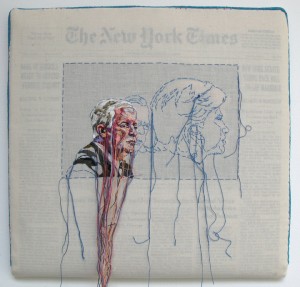 Robert Gates, by Lauren DiCioccio