Posted By Joan Pont on May 10, 2013
Making clothes.  Making clothing meaningful.  There are lots of steps between the idea and the finished product.  And once made, the garment is almost a tangible part of you forever.  So different from store bought items.  But someone made them as well, and generally toiled under some challenging circumstances.  With that as a preface, come hear what our May speaker has to say about all this!  Please join the Tamalpais Textile Arts Guild on Monday May 20th at 7 pm at the Marin Art and Garden Center, Marin Society of Artists Gallery, 30 Sir Francis Drake Blvd, Ross.  Guests welcome.
Amy Keefer will discuss wearable art and mainly (although not limited to) knitting.  As a bonus, there will also be a demonstration on coding information in traditional knitwear techniques. Knitters, bring yarn, needles and graph paper.  We can attempt to create a pattern for our own textile endeavors.
From Amy, " After the experience of working with my hands to live, I find it impossible to ignore the plight of garment workers around the globe. How simple it is to subvert the bodies and pain of people who we cannot see, to take their work which produces the relics of our culture for granted. To make things, to learn to draft, weave, cut and sew a piece of cloth , the effort that it involves stays with those who learn it forever. It is impossible to forget something that you have made with your hands, to forget anything you have touched. In this way, touch is stronger than sight."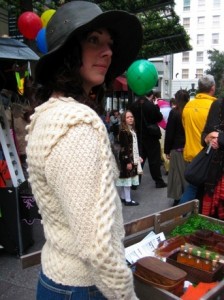 "Alchem-Amy"
Hand Knit Aran Miner's Sweater
Turmeric and St. John's Wort Gold Soap
2011