Posted By Web Manager on May 23, 2013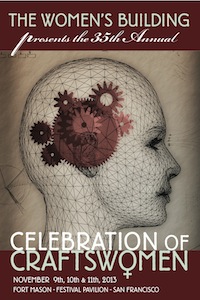 Celebration of Craftswomen, 35th Annual
Show Dates: 11/9/13 – 11/11/13
Application Deadline: 5/31/13
REQUIREMENTS:
Media
Images: 6 (a booth shot is required)

General Information
Continually ranked in Art Fair Source Book's Top 200 Craft Fairs!
For over three decades, The Women's Building Celebration of Craftswomen has allowed Bay Area residents, along with visitors to San Francisco from throughout the world, to discover the work of the nation's best female artisans and fine artists.
The Celebration of Craftswomen is one of San Francisco's largest fine crafts retail fair, and the largest event celebrating the craft of women in the nation. The event is sponsored by and is a benefit for The Women's Building, a community service center serving women and girls in San Francisco. Accepted Artists will be required to become a Member of the Women's Building and pay a $25 Annual Fee.
The crafts fair will also feature gourmet food, a benefit raffle, and various entertainment.
FEMALE APPLICANTS ONLY