Posted By Ann McDonough on January 7, 2014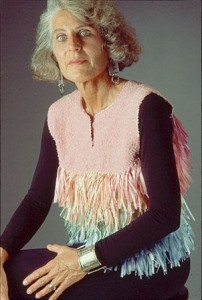 Black Sheep Handweavers Guild will be sponsoring two workshops by renowned designer Anita Luvera Mayer. Saturday Jan 18 and Sunday Jan 19, 2014
Day 1: Vested Interest (January 18, 2014)
This workshop will present an overview of a variety of vests and the things to consider in selecting one that works best for your body and your life style including length, garment shape, and fabric weight. The lecture/demonstration will cover a range of topics including weaving with sewing thread, recycling shoelaces, lining methods, making vests reversible, modular knitting and more. Everyone will receive a basic vest pattern, learn how to size it and will have the opportunity to try on various vests that accommodate a range of body sizes along with patterns to copy. Inspiration will be provided through books, ethnic examples and the instructor's collection of unique vests.
Skill level: All levels
Lab fee: $5.00

Day 2: Embellishing the Surface (January 19, 2014)
This could be considered a companion workshop for the Vested Interest workshop.
A one day hands-on exploration of simple, yet dramatic, ways to individualize clothing and accessories using mirrors, creative stitchery, innovative beading, braids and wrapped rings. Each participant will complete a reference notebook of samples. The instructor's wardrobe and textiles featuring these embellishments will be available for examination.
Skill level: All levels
Lab fee: $30.00
Please email programs [at] blacksheepguild [dot] org to sign up or for more information.