Posted By Eve Conner on June 8, 2014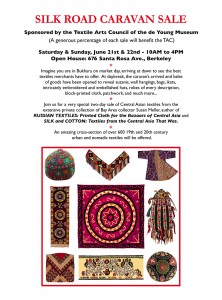 Sponsored by the Textile Arts Council of the de Young Museum
A generous percentage of each sale benefits the TAC.
Saturday and Sunday, June 21 and 22, 10am -4pm.
Open House 676 Santa Rosa Avenue, Berkeley.
A very special two-day sale of Central Asian textiles from the extensive private collection of Bay Area collector Susan Meller, author of RUSSIAN TEXTILES: Printed Cloth for the Bazaars of Central Asia and SILK and COTTON: Textiles from the Central Asia that was.
An amazing cross-section of over 600 19th and 20th century urban and nomadic textiles will be offered.