Posted By Jolyn O'Hare on November 9, 2015
Tamalpais Textile Arts Guild speaker – November 16, 2015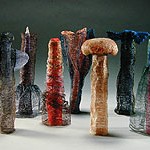 Carole Beadle has an MFA in Textile Arts from California College of Arts and Crafts, Oakland, CA.  She has received many awards, and participated in numerous juried and invitational exhibits.  Her work is also featured in numerous collections.
Artist's Statement:
Permission to express a natural order of life through visual means allows for understanding and respect to human needs, concerns and dilemmas. These works are frankly confessional, illustrating, interpreting, mirroring moments and observing the fragility of life in its on going process. With such visual connections, understanding the informed, compassionate and personal environment can reflect the global environment.
The evening activities of the TTAG meeting start at 7 pm at the Francis Young Gallery of the Marin Art and Garden Center, 30 Sir Francis Drake Blvd, Ross (east end of campus). Guests are welcome.
See our website at: http://tamalpaistextileartsguild.org