Posted By Jolyn O'Hare on January 10, 2016
Tamalpais Textile Arts Guild speaker – January 18, 2016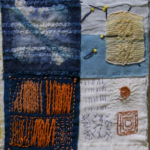 Peggy Osterkamp's work with Yoshiko Wada about stitching has inspired her, and she will share her thoughts and ideas, as well as bring threads, needles, needle threaders and cloth pages for participants to make their own needle books during the program with their stitchings.
Peggy will also talk about mending—as art and as a way to save our own garments. A simple and fast way to mend sweater holes and how to darn socks as well as darning as art, relaxation, and fun will be part of the program.  It's a great way to reuse/refresh/recycle!!
The evening activities of the TTAG meeting start at 7 pm at The Tamalpais, 501 Via Casitas, Greenbrae, Study Room. Guests are always welcome.
See our website at: http://tamalpaistextileartsguild.org