Posted By Jolyn O'Hare on February 8, 2016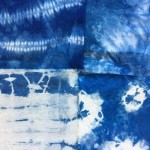 Joanne Salz will present an overview of indigo dyeing with lots of examples and recourses.
She says – I've done indigo dyeing periodically through my years as a weaver, but always under someone's supervision, and hesitated to try it myself because it seemed difficult and tricky. I love the the color and magic of it though so when I tried the simple Dharma kit it was a revelation. I'll show you how it works and tell you about other ways, from Japanese masters to local classes. I have lots of lovely books and dyed examples to share!
Anyone who has done indigo dyeing is invited to bring something old or new to share.  And feel free to share examples of items dyed with indigo that you have collected.
The evening activities of the TTAG meeting start at 7 pm at The Tamalpais, 501 Via Casitas, Greenbrae, Study Room. Guests are always welcome.
See our website at: http://tamalpaistextileartsguild.org