Posted By Jolyn O'Hare on April 11, 2016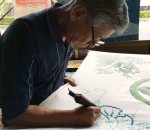 Ruth Anderson has been interested in Japanese textiles, especially tsutsugaki (paste-resist surface design) and kasuri (ikat) textiles for many years, and visited textile collections and museums in Japan several times. She is an Advisor to the Board of the Textile Arts Council, Fine Arts Museums. Previously, as Program Chair, she organized lectures on East Asian and Southeast Asian Art. Now retired, Ruth worked at several museums in the SF Bay Area and at the University of British Columbia Museum of Anthropology in Vancouver, BC.
Last October Ruth Anderson visited textile artists in the Matsue and Izumo region of Western Honshu, Japan. Izumo was an important center for the production of tsutsugaki (freehand-drawn paste resist surface design) textiles.  She will present an overview of the textiles and techniques she observed, and will show a few textiles brought back from this trip.
For April 2016 only – The TTAG meeting will be held at the Sausalito Library, 420 Litho St, Sausalito, CA 94965, Edgewater Room. The meeting starts at 7 pm. Guests are always welcome.
See our website at: http://tamalpaistextileartsguild.org