Posted By Web Manager on November 28, 2016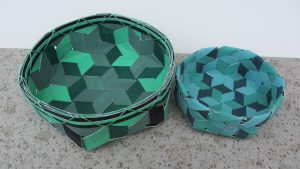 Bay Area Basket Makers (BABM) will hold 2 separate basketry workshops in February, 2017. They are open to weavers who are already BABM members, and those who pay the $25 annual membership fee at the time of workshop registration:
"Four Inset Handle Basket" is a 3 day workshop taught by Peeta Tinay, February 17-19, 2017. For intermediate/advanced students, the workshop cost is $300 plus a $95 fee for the prepared & dyed round reed.
"Mad Weave" is a 1 day workshop taught by Debbie McClelland on February 22, 2017.
Some plaiting experience helpful. The workshop cost is $80 plus a $10 fee for the prepared & painted watercolor paper.
Both workshops will be held at the Caning Shop, in Berkeley, CA. For registration forms and further information, please email: jillstanton9@gmail.com or call: 415 282-4495.