Posted By Wendy Bertrand on August 1, 2017
This fabulous MUST SEE show by the Center for the Arts, Sebastopol in collaboration with the Surface Design Association includes about 17 woven pieces of the 80 works selected from 500 entries, two come from San Francisco's Loom & Shuttle Guild: Deborah Corsini and Wendy Bertrand.
International Fiber Arts 8 Promo   (pdf via my website with all workshops and lectures)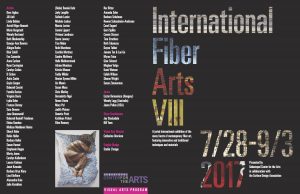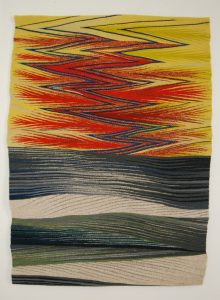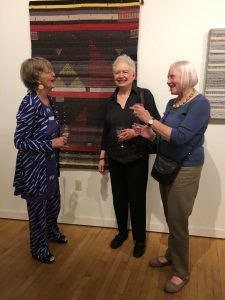 Fire/Water by Deborah Corsini                             Wendy Bertrand with City Life
Photo from Artist                                                                               photo by Diane Chehab
2016                                                                    62″ X 42″  Hand spun and commercial wool
46″ x 34″                                                                Marlene Golden and Barbara Nitzberg,
wool, silk with cotton warp                                     Loom & Shuttle members view show
This exciting show also brings workshops and lectures during August. Check out the pdf  shown above and attached. For example, on Saturday August 19 at 3pm Handweaving in the Computer Age by Sheila O"Hara.