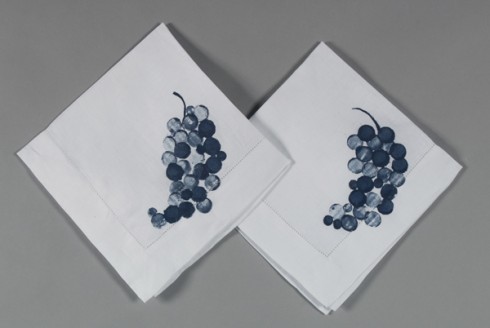 Historically all indigo vats were "green", if not pleasant to be around, in the sense that they were based on fermentation using a variety of natural ingredients ranging from sake, bran and sugars to urine and worse.  In the 18th Century a simple chemical reduction formula variously referred to as the Swedish Vat and the Cold Vat was widely used in Europe and possibly the American Colonies. It fell out of fashion with the discovery of stronger albeit more toxic chemicals such as sodium hydrosulphite and the zinc-lime formulas. These new 19th century discoveries were certainly more effective and easier to use and there were no laws to protect factory workers exposed to toxic fumes or powders. Thi-ox commonly used by dyers is a more recent and very effective means of reducing powdered indigo, but some people are sensitive to the fumes and worry about the long term side-effects. As 21st century artisans, teachers or artists we have a desire to protect our environment and our health. I am willing to give up the ease of a thi-ox vat for the pleasure of working without a respirator in my studio and have pursued the "Greener Indigo" formula since I learned about it from Michel Garcia at the World Shibori Network conference in France in 2009 (http://shiboriorg.wordpress.com/). I like the results on Japanese paper as well as cloth and basketry materials.  I have taught several workshops with this formula including CNCH 2010. This Summer I'll teach an intense 3 day workshop at the Mendocino Art Center August 28-30, 2010 (http://www.mendocinoartcenter.org/), and I am delighted to share that I will also teach again at CNCH 2011. Hope to see you there.
This formula is also appropriate for thickening with gum Arabic for printing or painting.  Thinking ahead to holiday gifts and keeping our environment in mind, I suggest you try some simple indigo print cotton napkins which will grace your table and replace those wasteful paper napkins. Blue and white is always attractive and you can work on ready made cotton or linen napkin blanks from Dharma (http://www.dharmatrading.com/) or hem your own if you prefer.
For the indigo printing you use the same ingredients I use for the "Greener indigo vat". This formula uses easily sourced chemicals and produces no disagreeable fumes. What's more, the exhausted bath can be safely disposed of since the ingredients form only common plaster as a by-product.
Ingredients:
3 grams Indigo powder, natural or synthetic. If you use natural indigo, be sure it is finely ground
9 grams Slake lime also called kaklwasser
3 grams Iron sulfate available from the garden supply store.
Gum Arabic from Dharma ½ tsp mixed syrup (Fill the plastic gum Arabic powder container from Dharma with  hot water about ¾ full, mix well and allow to dissolve overnight before using. It will turn into a viscous clear syrup.)
Place all the dry ingredients in a clean glass spice bottle.
Add hot water to fill the jar, about 50cc.
Add ½ tsp Gum Arabic syrup and stir well
Heat uncovered on the stove in a pot with an inch of simmering water for 20 minutes.
Put the cover on the jar and allow it to settle overnight or use after it cools for a half hour. If you use the mixture when it is all mixed up together it will be thicker and easier to paint, but there will be more rinse off. You may prefer to allow it to settle and just use the clear liquid on the top. Paint or print very rapidly by using a cork or small stamp or Japanese paint brush. The indigo tends to oxidize on the brush if you are not fast enough. You should practice on paper or a sample cloth first. The indigo should still be dark blue green when it hits the cloth and turn blue as you watch. Allow the printed cloth to dry overnight before washing off. This mixture should last a few weeks. You will see the plaster building up on the bottom. Stir it up two hours or so before using again and allow it to settle to reactivate. Heat is not necessary. A simple wine cork stamp makes a lovely grape cluster with a painted stem. What could be more appropriate for the dinner table?
Want to know what to look forward to?  Click here.