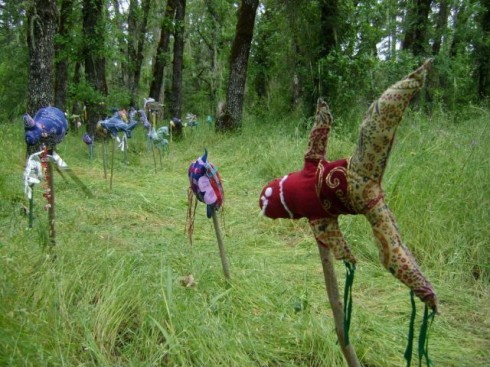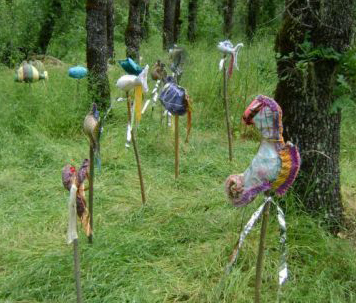 The sun was out Saturday morning, May 22, 2010, long enough to install "Fish Out of Water", a school of 50 handcrafted fish at the Middletown Trailside Park for the 8th Annual EcoArts Sculpture Walk.  Karen Turcotte, Nancy Nestegard, Pam Perry, Tedde and David McMillan and Sheila O'Hara helped install the fish in just under two hours before it started pouring rain.  The sculpture addresses the issue of the state of our oceans, lakes and rivers and the safety of our fish.
The idea germinated a year ago on the day we installed our "Turning Over a New Leaf" with 50 oversized colorful cloth leaves swaying from tree branches.  We finished hanging the leaves and then wandered down to view Doug Marble's wonderful sculpture "The Old Fisherman and the Cranky Dog".  Nancy Nestegard mentioned that it might be fun to make fish for the next year's show.  What a great idea!  Six months later Sheila O'Hara was looking at all the leaves that were now back in her studio.  Pam Perry came up with the idea of recycling the leaves into fish.  Sheila handed out the leaves and put out a call for fish.  It took a village of  sixteen people from Lake, Mendocino and Sonoma Counties to create a combined total of 50 fabulous fish made from cloth, plastic, wires, filters, ribbons and mylar tape.  All the ribbons and mylar tape started swaying in the breeze as soon as we got the branches into the ground. We hope that you come view this installation along with 23 other wonderful EcoArts Sculptures from June 13 to mid October, 2010.
For more information contact Karen Turcotte at (707) 928-0323
"Fish Out of Water" – coordinator – Sheila O'Hara with original concept by Nancy Nestegard
Main fish creators – Nancy Nestegard, Suzanne Britz, Sheila O'Hara, Jan Eckert, Cheryl Thompson and Pam Perry.
Additional fish created by Ellen Hardenburger, Tedde & David McMillen, Jane Spanbauer, Laurie Howard, Sue Hayes, Marge van Dusen, Dorothy Stebbins, Wendy Chavin and Catherine Markey. Guilds represented include the Sheep Thrills Spinning and Weaving Guild, the Yokayo Textile Guild, the Redwood Empire Weaving and Spinning Guild as well as Sheila's weaving class students and friends from Lake County.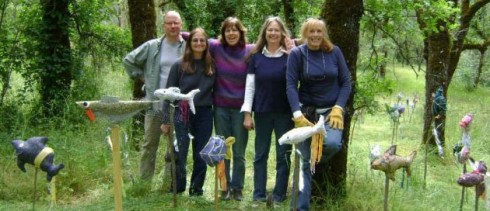 A BIG THANKS to all who helped make such great fish for a successful project!
Enjoy a few pictures to tempt you to come see the show. Something definitely fishy is going on in Lake County!
Sheila O'Hara
www.sheilaohara.com
Next, we present Lao weaving.