Rebecca Burgess spoke to several of our Guilds in the Fall of 2011 about her Fibershed Project. It started as a personal challenge. She was attempting to source all the necessary fibers and dye plants within 150 miles of her front door in Marin County to make herself a wardrobe.
As she contacted farmers about fibers, an unexpected cadre of weavers, knitters, designers and seamstresses started contacting her to ask if they could help. Suddenly, her personal project snowballed. Building on what she learned and people she met in her year of dressing locally, Fibershed Project has morphed into a sophisticated analysis of what California produces and the feasibility of re-establishing a fiber to fabric industry here. J.F.
The Fibershed Project has recently completed a wool inventory and mapping project of the state. They collected data by working with four California sheep shearers, Roswell Wool, which is the commodity wool market pool, and interviewing ranchers and farmers online and in person. This also led to a wool sample collection which helped verify the wool quality available as well as building relationships with individual producers.
The wool quality by micron analysis, the first time a broad scale analysis had been done in California, was a pleasant surprise. From anecdotal information, the study wasn't expecting to find large quantities of fine wool. In fact, approximately 1,000,000 pounds of wool fine enough to be worn next to the skin was found, which would support an industry producing fabric for functional and commonly worn garments.  All wool under 25 microns can be used for high quality cloth production.  All wool over 25 microns can be utilized for outerwear, felt and bedding products.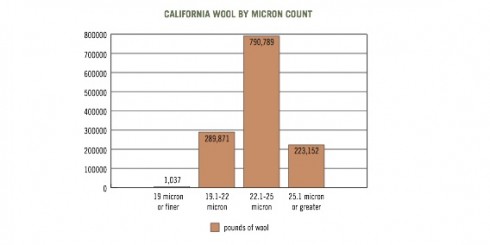 Wool quality is highest in the hotter and drier inland regions of California where the largest flocks also live.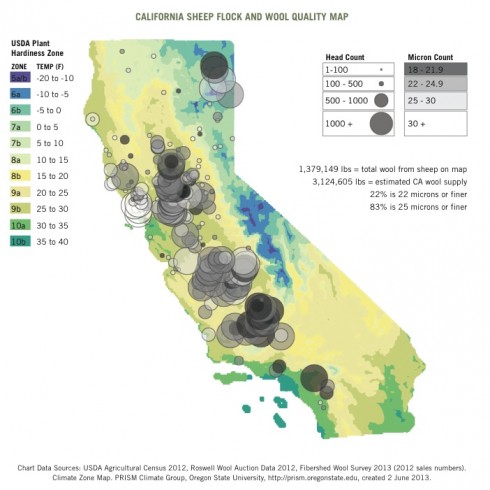 As for color, 84% of wool production is white. This, as well as the data supplied by our research, information from Roswell Wool and consultations with wool industry specialists suggest that California wool production is both high enough and stable enough to make it economically feasible to set up mill production in the state.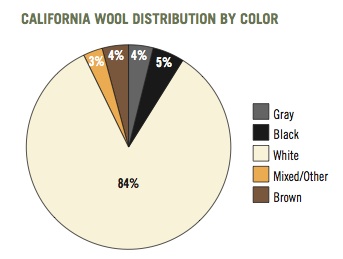 Further collaboration is being proposed with mills in the Carolinas who have agreed to assist Fibershed in determining what kinds of fabric production would be realistic and what types of machinery would be appropriate to set up production in California.  This type of prototyping is key to building a concrete demand analysis and also  assessing the carbon footprint of such an endeavor.  Fibershed is currently raising funds for this phase of the work.
Click here for the next article