To set the stage, my husband (Larry) and I own an alpaca ranch. We've been in business for about ten years, and own a herd with a variety of colors. Our intention was to raise these soft, luxurious animals for their fiber, as I love to knit and spin. Larry had turned into the weaver, and we also do felting and other fiber crafts. We also have llamas, rabbits and raise silk worms every year.
I was familiar with wooden wheels, and have a variety of them – from a folding/travel wheel to castle style wheels. I love them all and each serves a purpose. But, I needed a wheel that could truly be a production wheel, one that could hold large amounts of yarn, of all weights and textures. Thus began my search for a wheel …
National Custom Spinning Works' wheel caught my eye with its slick, space age meets fifties style. I had a chance to try one at a show and fell in love with it. There are 10 color options to choose from.  The Robin's Egg blue was my choice.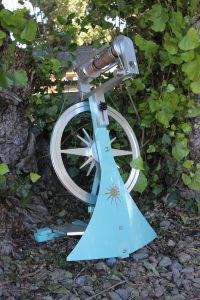 It is available with two sizes of bobbins and flyers. I am able to spin lace weight yarn on it, and have been able to put close to a thousand yards on the "small" bobbin. It is versatile, and has a very large orifice and bobbin option. So I am able to spin art and bulky yarn, storing several hundred yards of this bulky yarn on a large bobbin.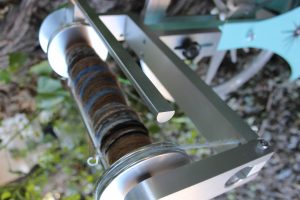 It also is a double treadle, the style I personally find easiest to work with for prolonged periods of time. I am able to set the treadle tension to suit my personal preference, others are able to set it a little "easier." (Think changing gears on a mountain bike.)
Another thing that I love about this wheel is that it does not walk while I am spinning. It is easier to transport than you might think, as it is a three part assembly.
These are the features of this wheel
* Spinning Wheel Type- Upright
* Scotch Tension
* Effortless 35 Sealed Ball bearing Wheel
* Unique, 10 custom colors to choose from and a wide variety of graphics allows a personal touch
* MASSIVE bobbins provide high volume spinning
* Collectible~ Each wheel is signed, dated and sent with a letter of authenticity ( I own wheel number 24)
* Life Time Guarantee
For those that demand the best and know the difference, Macedo's Mini Acre is a distributor for this innovative wheel.
Maureen and Larry Macedo are distributors for National Custom Spinning Works.  Maureen is also a licensed fiber judge for the Alpaca Llama Show Association and teaches classes in spinning, knitting, dyeing and felting.  They have a small fiber arts studio on their ranch and love to have visitors  come and visit with their alpacas.
They can be contacted at  209-648-2384  or macedosminiacre@gmail.com