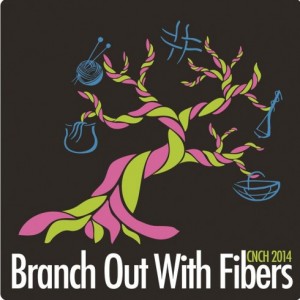 Recently, the Conference 2014 Chairpersons met and refined the class offerings at Branch Out With Fibers. 
Several of the teachers, Robyn Spady, Tracy Shapiro, Harry Wells, and Jennifer Moore agreed to expand their class sizes, giving those who thought they couldn't take certain classes another chance.
Loyce Ericson will be doing a needle felted book cover which will serve as a sample of techniques in her introductory needle felting class. The project wasn't mentioned in the conference catalog.
Linda Hartshorn  has a few spaces left in her 12 hour shadow weave class.  When you do shadow weave, everybody thinks you're a genius–this is a good time to get the technique down.
Daryl Lancaster, who is teaching four classes, has a few spaces left in all of them. This is Daryl's only teaching venue on the West Coast for 2014. Now is the time to register!
Because of these changes, the Early Bird Registration Period  has been extended to February 10.  So, if you want to take advantage of the Conference's class offerings, now is the time to do so.
Other deadlines are also looming (pun intended!)
If you are entering items in any of the Galleries, your entry form must be received by March 15 accompanied with a check and a photo of the piece.  Your piece needs to be delivered to Judy Calder by April 10.
If you are entering a garment(s) in the Fashion Show or other garments and accessories, the entry form and entrance fee must be received by April 1 and the garments need to be delivered to Judy Fisher by April 10.  Since we all seem to procrastinate about getting garments done, Judy asks that you send a picture of the garment ASAP or, if it is not done, send a sketch or pattern envelope picture with a sample of the material you are using.  It will help us organize the show!
Click here to download Gallery Form
Click here to download Fashion Gallery Form
Remember: Conferences are a time to see old friends and make new ones, see what others are doing and show off your work, stretch your fiber vision and learn something new.  I'll see you in Oakland!
Click here for the next article