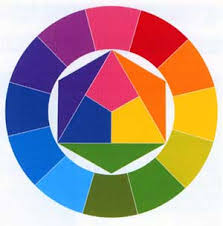 Spring is a time of renewal. In nature, plants die back in the fall and winter and then return to life in the spring. Some animals sleep through the winter and when spring comes they feel young again or –better yet– they have young ones following them. These are very noticeable changes in the cycles of life. The plants and animals are always here, they just look a bit different with the changing seasons.
The same is true with our materials that we use in our creations. The colors don't really change but different combinations of colors come to the forefront and then are supplanted by another palette. The trick, of course, is to keep up with those changing palettes so our new pieces don't look outdated.
Perhaps you think that no one will be that attuned to notice. Not only will they notice, you will, too. Just think of iconic color palettes of the past and you will be able to date them. Think about the Harvest Gold appliances that scream "1960's" to you. Or you surely remember the muted pastels of the Southwest. Walk into a room featuring those colors and you know that it was probably decorated in the '80's.
Do you remember when fancy handkerchiefs were given as little gifts and women had drawers full of them? Or what about antimacassars? If you are too young to remember them, they were fancy doilies that were put on the backs and arms of furniture to protect the upholstery from being soiled.
These items don't really have a use anymore, but when you come upon them you know it would break your heart to throw them away.
Read on to see what you can do with perfectly sound but outdated fabric.
Read Jill Stanton's article , Tending the Wild, for an informative history of local Indian basketry. Check out the latest in tablet weaving, be inspired to find a teacher and learn something new and find out what CNCH can do for you.  Check out the history of the Redwood Guild and be inspired to write your own guild's history.
Above all, I hope you enjoy this issue.
Judy Fisher, Editor
Click here for the next article
Articles in this issue . . . Spring 2015