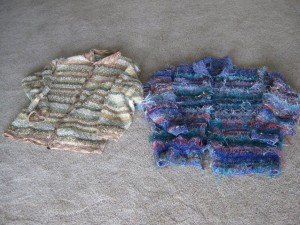 We, as a group, are awash in fiber and yarns.  We also hold onto snippets of fabric and ribbon and anything else that might be useful in the future.   Let's face it, we made it, bought it or became attached to it in some way, and we can't throw out our treasures.
I want to make this column a place where we can share our bright and innovative ideas for actually using these pieces we have been storing.
For this issue, I would like to share a project brought to my attention by Midge Dier of Country Weavers.  This project was presented to the guild by Lana Magnuson and Penny Rand who led the group in making "designer yarn" from small amounts of left over yarns.
Two or more balls of yarn are combined making good color combinations and wound on a reel.  When one ball runs out, attach another so that the make-up of the yarn slowly changes to other colors,  Care should be taken to keep the thickness of the yarn approximately equal by adding or subtracting thinner yarns.  Alternatively, the yarns can be cut in approximtely the same lengths, about  yard, and tied together singly.  Either way, the yarn is definitely 'one-of-a-kind.'
Pictured are two sweaters made by Lana.  She also has woven scarves with this 'designer yarn' and was pleased with the results.
How do you use your leftovers?  Let me know at Editor(at)CNCH.org.
Judy Fisher
Click here to find out what's in store for the next issue