As a new weaver I am intrigued by the many, many different options and types of weaving there are to choose from! Starting out with a rigid heddle loom I quickly realized that I needed more options and wanted to be able to weave more than a tabby scarf easily. Unfortunately, at that time I didn't have room for a "real" loom. Fast forward a couple years, a move to Sacramento opened up options with a house instead of an apartment and a converted dining room into studio opened the doors to my fiber obsessions!
A member of my guild (Silverado) had two looms she wanted to "rehome" and, as I had the room, I took both of them! The first was a 4 harness 40" X Gilmore, the second an 8 harness 40" custom built jack loom. The Gilmore has since moved on to another guild member, while the custom jack will be my baby for a long time!
I started warping and weaving many, many scarves, towels and even a couple rugs using guild stash yarns and also yarn from my own knitting stash. None of the projects I wove were exactly planned or dependent on success; I was just playing with different weave structures and learning a small portion of this whole new world of weaving.
While at CNCH in May I found the perfect plum colored cone of 8/2 Tencel from Village Spinners and decided that I needed to weave a shawl for my best friend's wedding. The kicker is that I only had three weeks to plan, warp and weave the shawl! Oh, did I mention that I also had to weave dish cloths for our guild exchange? I had the loom warped but had not woven any of the 9 yard warp for the cloths. Needless to say this was going to be a challenge, but a good one!
Having the weekend at Oakland with friends and weaving inspiration galore I was able to look at different weave structures and the effects of different fibers and yarns and how they interacted with each other and the designs. While I had an idea of what I wanted to do, I also had to keep in mind that I only had a few short weeks to plan, warp, and weave the shawl. I decided that I would keep it simple and have both warp and weft be the same color, plum, to match our bridesmaid dresses.
Once I got home I started scouring the internet and books to try and find the perfect draft for the shawl. While I have an 8 shaft loom I decided that I would stick with 4, since that's what I'm comfortable with. Comfort also, to be honest, played into the design that I chose. I wanted something simple but elegant and settled on a rose path design from Davison's book, page 22, # VII. I went old school and drew out the draft and drawdown on graph paper to add to my weaving booklet, then I grabbed my iPad and drafted the design in my iWeaveIt App (I have included a screenshot of the design, note that while I used the same color, to be able to see the design I used two different shades of purple).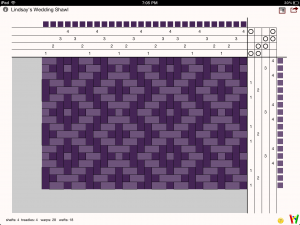 I had a few problems while warping and weaving that I wasn't able to ignore . I had to address them and move on with my project! I warped front to back and had to rethread the heddles once because I miscounted.  My main problem was with the width of the weaving piece, it was too long for my boat shuttle to easily maneuver so I devised a workable  contraption.  I taped my boat shuttle to a long ski shuttle and it worked perfectly!  I spent every spare minute I could weaving during those last 2 weeks and finished with 2 days to spare, which enabled me to wash and press the shawl.
The shawl turned out better than I could have hoped. It was my first time weaving and working with tencel and it has such wonderful drape! It really relaxed after washing. I had to rinse the shawl four times as the dye was not completely exhausted. Even after washing, the color matched my maid of honor dress exactly and looked amazing with the bride's gown!
It was definitely a gift of love and will be cherished by the bride for a very long time!
Shawl Info: 4 yard warp, 420 ends, 2 floating selvedges, 10 dent reed (2 ends per slot)=20 epi, 30 repeats of pattern draft. 19" wide x 88" long plus, 4" fringe.
Gynna B. is an active member of Silverado Handweavers and Spinners Guild.  You can reach her at gynnab(at)gmail.com or go to her blog at gynnab.blogspot.com.  She also has a photography site: gynnab.smugmug.com
BTW–Gynna is definitely a 21st Century Woman who is comfortable with all things electronic and computerized. However, her latest purchase is a treadle sewing machine that, she says, will allow her to spin, weave and sew her creations completely off the grid!
Press here for next article