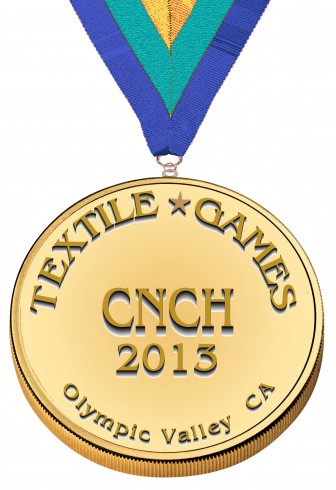 The news is out. Program booklets printed and distributed. The CNCH Liaisons have returned home from an informative and delicious luncheon with bundles of booklets, program CDs with the program PowerPoint file (or video), and other presentation information for your guild. The CNCH.org website has been populated with color photos for each instructor linked to the file with all the class descriptions.
Another file has links to all sorts of local area attractions and the instructor bios file can connect you to instructor websites. Our Facebook page, CNCH 2013, is up and available to you for viewing, comments, and posting what is going on in your guild. We encourage you to load photos of your work and tag them with your name.
But here's the bottom line. You need to pick just three classes from a choice of 60. We don't know how you will do it but some suggestions come to mind…. Sleep on it, put the booklet under your pillow and wake with your mind made up or do the classic, "eeny, meeny, miny, mo" to pick from among your favorites. Then, there is the Ouija board (online versions available), pin the tail on the class (the center pages with Classes at a Glance would work for this), or plan with your friends to take all different classes and share what you've learned at a later time…
We chose the venue, The Resort at Squaw Creek, after an almost exhaustive search by the conference facility committee. We looked from Sacramento to Stockton to Lake Tahoe to Reno. We looked at group camps, scout camps, fairgrounds, casinos, traditional conference hotels and resorts. Finding a place that offered: an array of lodging choices in one place for a big group, 20 classrooms with good lighting, multiple meal options from DIY to catered dinners, elevators, proximity to other activities, a staff willing to negotiate (and negotiate we did), comfort and cleanliness, and more led to a short list. The Resort won hands down. You can see a more complete description of our venue including rates, occupancy, extended rate period, on site eateries, and more in the introductory section of the TEXTILE * GAMES program booklet.
A HEADS UP FOR ALL: For lodging reservations at The Resort at Squaw Creek, you may NOW visit our new dedicated website for CNCH 2013! (See link below.) In addition to previewing the hotel's amenities, this website gives you the opportunity to view all room types at our discounted conference rate, make your selection and then reserve your room of choice. Alternatively, if you would prefer to make your hotel reservation by phone, please call (800) 403-4434 and tell them you are part of the CNCH conference. https://resweb.passkey.com/Resweb.do?mode=welcome_ei_new&eventID=9661958
We will be updating you at www.cnch.org with articles on various aspects of the conference through next spring. It's not to early too start planning how you will participate in the TEXTILE * GAMES. Check here for details in our virtual booklet and check back often.
Your 2013 CNCH Committee!
Press here for the next article