Cedar Pockets (6-104)
Saturday all day 6-hr class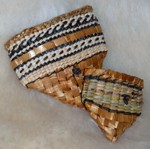 This class provides a good introduction to weaving with the inner bark of Western Red Cedar and other traditional plant fibers from the Pacific Northwest.  Make a small pocket for a neck pouch, or weave a larger size to hang.  First cedar strips are plaited, then the unique pointed pocket is formed.  Rows of twining may be done in sweet grass or colorful raffia.  Learn the folded border to complete the project.  Bring embellishments if you like.  What's in your Pocket???
Skill Level: All levels
Materials Fee: $35 (includes red cedar bark, dyed and natural raffia, sweetgrass, and waxed linen)
Students should bring: Towel, sharp scissors, few clothespins, pencil, apron or old shirt (cedar stains), large eyed tapestry needle (blunt), measuring tape or ruler, small cup or bowl for water.
---
Japanese Diagonal Twill: Gestures in Tree Bark (6-114)
Saturday all day 6-hr class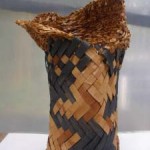 Ancient refinements brought twill to the tea ceremony with eloquent baskets and ikebana. This twill, in a new use, celebrates prepared cedar bark and ash in an elongated gestural form, a container for the spirits of the Northwest. Sculpting with twill steps away from the loom and into a new upstanding form!
Skill Level: Advanced
Materials Fee: $95
---
Twined Grass Basket (6-304)
class is FULL
Sunday all day 6-hr class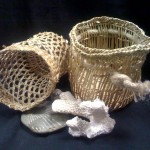 Loosely adapted from Aleut fish baskets, these closely twined baskets are flexible and versatile.  The mellowed material is easy to work with, and not nearly as fine as the traditional rye grass.  Closely spaced warps are held together with many rows of fine twining.  As usual, you will have options!  Try the fish-eye weave, reticulation, or rows of arrow weave to create a subtle pattern.  If you really want a challenge, you may weave the entire basket "mouth down" as the Aleuts and Haida execute their twining.  The grass we will use is too bulky for the traditional braided border, so we will do a double track border or twined down rim for a sturdy and handsome edge.
Skill Level: Beginning/Intermediate
Materials Fee: $15
Students should bring: Towel, sharp scissors, clothespins, band-aid, spray bottle, pencil.
---
Twining and Designing Off the Wall (6-314)
Sunday all day 6-hr class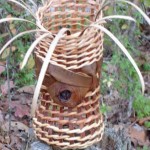 Take your skills and fibers to a new level by exploring ancient container techniques with a radical new intent. We will explore the strong and soft of twigs, vines and roots in an open weave sculpted interpretive piece. This introduction lends itself to use of your own special effects and materials for unique interpretive results.
Skill Level: Advanced
Materials Fee: $65
---