Colorhue Instant Silk Dyeing and Printing
A workshop with Barbara Setsu Pickett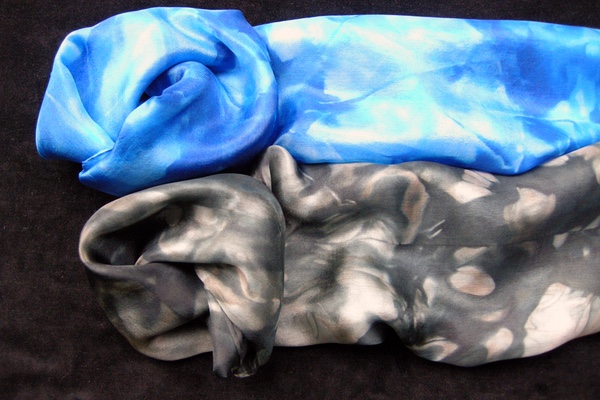 Colorhue is a liquid, highly concentrated, non-toxic, fiber-reactive dye designed especially for silk. It comes in 10 hues. It does not need additional chemicals or heat and fixes immediately without chemical fixer, no batching, no ironing to set the color. Because it strikes so quickly you can achieve unique color effects like iridescence. It needs almost no rinsing, saving water, energy and time.
Using the 10 base colors and a tri-axial color scale we will make 21 hues from 3 primaries. Optically mix hues by layering sheer silks. Learn scrunch dyeing by massaging the silk goods in a small amount of dye in a sealable baggie. Achieve iridescent effects by quick successive over dyes. Experiment printing with Colorhue by adding it to shaving cream and applying it through thermofax screens or freezer paper stencils.
Skill level:

Any level student is welcome to join in the fun.

Student material fee:

$40.00. Payment to cover dyes, supplies, silk fabric and instruction manual.

Materials list:

A materials list will be provided upon registration.

Instructor biography:

Barbara Setsu Pickett is an Associate Professor Emeritus in the Art Department at the University of Oregon. Her art and research focus on velvet weaving, Jacquard design, and shibori. She has researched velvet weaving both in Europe and Asia. With her son Michael she runs the Mihara Shibori Studio and creates silk shibori scarves. Barbara has received numerous awards, nationally and internationally, for her work.