More Than Just Black and White: Weaving Beautifully with Neutrals
A workshop with Betty Vera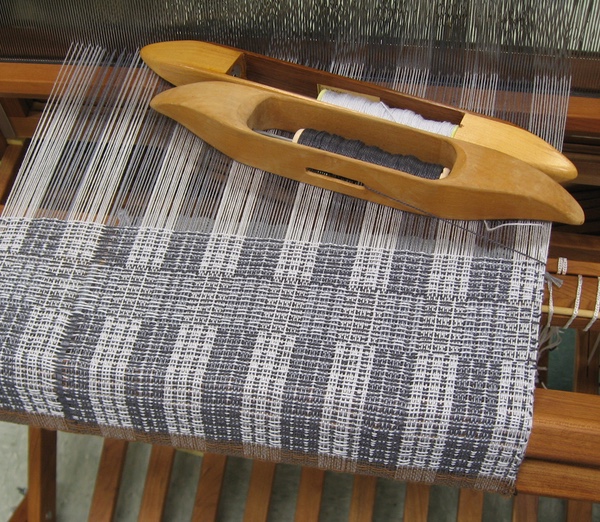 Black, white, grays, browns and beiges are anything but neutral when used skillfully – providing design effects ranging from intense drama to a soft mood. Neutrals also emphasize texture and set off other colors beautifully. And subtle colors themselves can be used to create a palette of "neutrals."
This class concentrates on combining light-and-dark tones effectively, using warm and cool neutrals, exploring the textural range of different yarns and weaves, and enhancing the graphic potential of woven design. Each warp will be threaded differently so that everyone can weave round robin and take home a notebook of swatches of every fabric woven in class.
Participants will receive warping and threading instructions in advance of the workshop so they can arrive ready to weave. Handouts will include complete weaving instructions for every warp, a variety of weft yarns, and all swatch notebook supplies.
Skill Level:

All levels, Beginner to Advance (must be able to warp and weave on a harness loom unaided; this class not for those who have never woven before).

Student materials fee:

$55.00

Materials list:

Warping instructions will be sent to participants in advance of the workshop. Each student must bring a pre-threaded 4 or 8 shaft table or floor loom; their own bobbins, shuttles, scissors, and other personal weaving tools; a few weft yarns to try; and note-taking supplies. A bobbin winder is not required of each student but it will be helpful if one or two students can bring one for the class to share.

Instructor biography:

Betty Vera loves how colors interact in weaving, whether in the hand woven warp-painted tapestries she makes or her computer-assisted Jacquard tapestries. A former fibers instructor at Montclair (NJ) State University and New York's Fashion Institute of Technology, she now lives in Massachusetts and divides her time between workshop teaching and her studio practice.