New Uses of An Ancient Technique
A Workshop with Lois Russell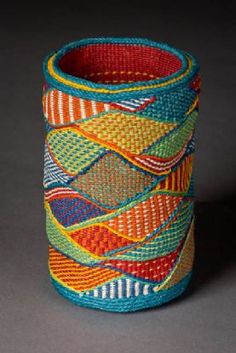 Basket making is an ancient craft rich in tradition and technique. Today's artists are using age-old techniques to create sculptural pieces that challenge the definition of "basket." This class will focus on twining, using colorful waxed linen thread. Students will begin with a small pre-made base to make sure they have the basics before exploring the many possibilities of pattern, shape and texture. The focus of the class is technique and using those techniques to create something unique.
Skill Level:

All skill levels are welcome and students will be able to find their own level.

Student material fee:

$35.00

Materials list:

scissors

Instructor biography:

Lois Russell makes sculptural basket forms by twining waxed linen. Her award winning work has been included in many exhibitions and publications. Lois served as president of the National Basketry Organization and now serves on the board of Craft Emergency Relief Fund and the Society of Arts and Crafts in Boston.