Spinning Spectacular Knitting Yarns
A workshop with Kate Larson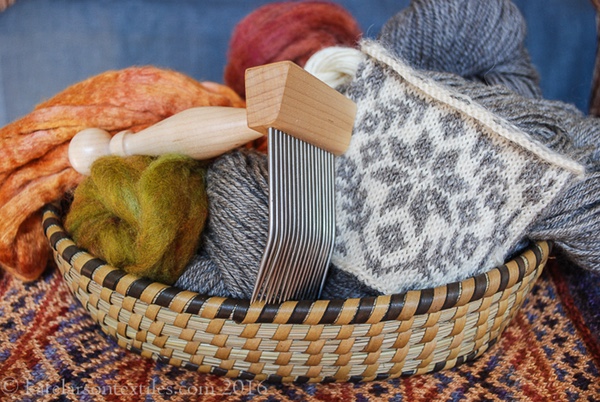 Starting a new project often begins with the perfect yarn, the perfect pattern, or a grand idea. Handspinning our own knitting yarns gives us endless opportunities to create exactly what we want, and breaking the design process into steps can aid everyone from the precision spinner and knitter to the most free-form. This class will help guide you through the process of choosing a fiber and yarn design, keeping gauge consistent, estimating fiber and yardage, washing and finishing knitting yarns, and more.
Kate will share her method of record keeping that never leaves spontaneity and creativity behind, and you will have the opportunity to see plenty of examples of her work. We will play with a wide variety of fibers and yarn styles and discuss different uses such as socks, lace, and two-color knitting. Leave class with a spinner's idea notebook brimming with possibilities for your next project. This workshop welcomes a wide variety of skill levels and is designed to help you create your own unique textiles.
Skill level:

Ability to spin and ply a basic yarn. Basic knitting skills (cast-on, bind-off, knit and purl stitches).

Student materials fee:

$15.00

Materials list:

A spindle or working wheel, extra bobbins, and lazy kate. You will need handcards for this class – some will be available to borrow. A few sets of knitting needles in sizes you typically use.

Instructor Biography:

Kate Larson loves using fiber arts as a bridge between art and agriculture. She is the author of The Practical Spinner's Guide: Wool (Interweave, 2015) and several videos, including How to Spin Yarn to Knit. Her work has appeared in Spin-off, Jane Austen Knits, and more.