The Unwoven Warp: Layering Sprang on Woven Cloth (twill with variations)
A Workshop with Deanna Deeds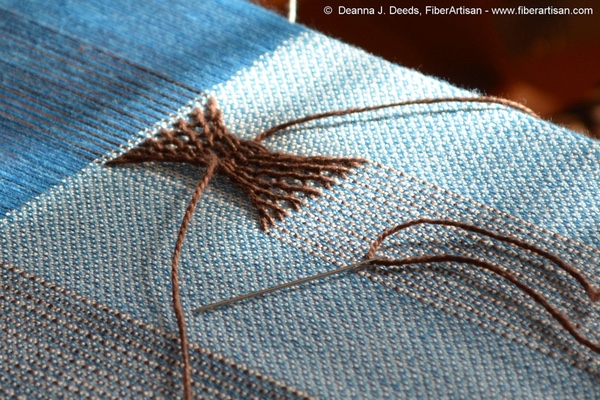 Learn to add sprang braided accents to your handwoven creations by leaving pattern warp unwoven in select areas, using a modified twill structure that creates supplementary warps. Sprang is a stretchy, net like fabric formed by the twisting of warp threads with each other. The elastic fabric thus formed is layered on regular woven cloth for exciting new possibilities in design.
Students will come with looms pre-warped and will learn how to tension the ground and pattern warps, weave the background, work an interlinked sprang motif and secure it. You will also learn how to start and stop the motifs to place them alone or simultaneous with another, and vary the size and shape of the sprang.
In addition we will have opportunity to try alternate treadling (lift) sequences for variations of background fabric, try alternate pattern warp yarns, and explore other sprang structures if desired. The class will include structures in which supplementary warp floats can be formed.
Skill level:

Intermediate

Student materials fee:

$5.00 (includes pre-workshop and in-class handouts, stopcord, needles, alternate warp yarns).

Materials list:

Participants will receive a materials list plus warping instructions upon registration. A 4 shaft (simple pick-up required) or 8 shaft loom with 12 dent reed and at least 8 inch weaving width required.

Instructor Biography:

An ex-engineer who has loved fiber since childhood, Deanna Deeds has been captivated for the past 30 years by the beauty of the mathematical relationships found in weaving. Focusing on form, interlacement and structure, she has developed a method of combining loom-controlled woven cloth with sprang, an ancient hand-manipulated technique.