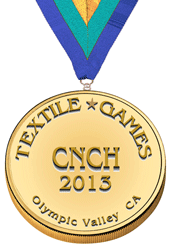 Try something new!
Area 4 guilds invite all fiber arts enthusiasts to the 2013 Textile * Games!
So what's new? We have a new conference venue. We have a new class format. We have new teachers. We have new theme-inspired special events. We have a Tailgate Market.
Our venue, The Resort at Squaw Creek rests at the base of Squaw Peak, the site of the 1960 Winter Olympic Games. Situated in spectacular Olympic Valley, our conference location is a world class destination resort with inspiring views and an abundance of natural light whether you're indoors or out. Taking advantage of the Sierra "in-between" seasons, our great conference rate is $159 per night for up to 4 people in a double deluxe queen guestroom.
www.squawcreek.com

For 2013, the class format is many three-hour "hands-on" mini-workshops and interactive seminars that provide the opportunity to experience multiple techniques. Learn something new on a new subject, enhance your knowledge on a subject you're already pursuing, or finally seek the solution to that ever gnawing question, "How do I …?"
We have invited 21 instructors from the West Coast. We're honored to welcome back some of your favorites and we're thrilled to introduce many talented instructors you may not have had the pleasure to meet. All are Olympians in their field!
Our theme, Textile * Games is clearly inspired by our venue. Taking it step further, we have planned a number of competitive events with the top three finishers taking home a gold, silver, or bronze medal.    The games start with "Make your own lanyard," an informal instructor judged event. There are no limits on your creativity as long as your CNCH name badge can be attached.
Our next special event is "The Shuttle Race," where you create a race "car" from a shuttle. If it is or isn't a race shuttle, deck your shuttle in whatever way you choose for the first ever Concours d' Elegance with ONE winner taking home the purse! And then… it's never too early to start your Textile*Parade entry, a "people's choice" event with medals for both wearable and non-wearable textiles. There is no limit to the number of entries as long as entrants have a model for each item. Additional events will be announced during the September 22, 2012 Liaison Luncheon at The Resort. (Details for the Textile * Games will be in the program/registration booklet.)
New to alternative conferences, our Tailgate Market provides a venue for our instructors, attendees and   local artisans to sell their textile related handcrafts and supplies. Plan to arrive early as our Tailgate Market will be open Friday, May 31, 2013 from 1-5 p.m.
Mark your calendars, start your engines, let the games begin! The dates for the 2013 CNCH Conference will be May 31st –June 2nd, 2013.    With The Resort's extended conference lodging rate, come early and stay late for an extended retreat with your family and friends as we are offering companion passes for both Friday and Saturday evening meals and activities.
The 2013 Committee look forward to seeing you in Squaw Valley USA!
Find us under the heading 2013 Conference on www.cnch.org and on Facebook

CNCH 2013.
Click HERE for the next article