The Reno Fiber Guild originated in 1972 when two women demonstrated weaving at the Nevada State Fair in Reno. They attracted the interest of several other weavers in the community, and this small nucleus agreed to meet and share their knowledge and ideas. Two of those original founders are still active members of the Guild. Originally, the group was called Weavers & Spinners of Northern Nevada, but with the members' broadening interests in all things textile, the name was changed to Reno Fiber Guild in 1982. Two other groups–one that focused on spinning and one on basket making –organized separate groups and are very active today.
Through the years, weaving has remained the focus of the Guild, but endless other textile associated interests have been explored through monthly programs, workshops, small study groups, fashion shows, weave-ins, dye days, exchanges, tours, retreats, and Convergence attendance.
Guild members enjoyed attending CNCH conferences within a few years of being organized, and in 1981 they applied for membership. A trial exhibit at CNCH '81 would help determine admittance as the first (and only) guild located out of California.
The Red Pizzazz exhibit must have wowed the board enough to gain membership that year, and members have participated every year since. The individual guild exhibits that used to be a feature of the conferences were a highlight of the year as plans were made for theme interpretation, looms were warped, and the display was prepared.
In addition to the exhibits, the members have participated on the organization committees for CNCH when District 4 is in charge. In 2013 the co-chairs at the Squaw Valley conference were RFG members!
Education and outreach are also important. Early days found guild members demonstrating weaving in schools, at theState Fair, and in shopping malls. One unique outreach tool was large web-like structure that was built of re-bar and featured weaving in the open spaces. This woven environment was displayed at various locations until it was finally donated to the children's room in the main library. Exhibits, including juried shows, have been featured at galleries, libraries, and shopping malls through the years. As a result of a very successful outreach called Try Your Hand at Handweaving in 2014, the guild recognized the need to implement weaving classes again. The now yearly outreach and weaving classes have brought new, enthusiastic weavers to the group. The guild dinosaurs welcome the new weavers; what a journey they have to look forward to!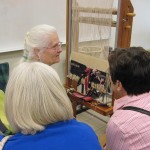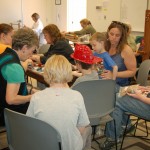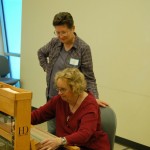 Weaving Outreach
Besides all the classes, programs, workshops, etc., other guild amenities include a monthly newsletter; a blog (renofiberguildblogspot.com); an informal monthly get-together to discuss problems, ideas, etc.; an extensive library; and equipment use at no-charge.
The Reno Fiber Guild has been and remains a closely knit woven group who share their interest and love of textiles and support each other. After all, what would life be without yarn, food, and friends?
Click here for the next article