Posted By DLaVallee on January 24, 2012
Return to Sender Update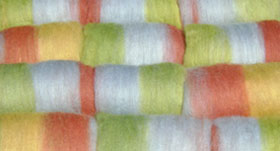 Attention CNCH 2012 spinners, it's time to start thinking about your gorgeous Return to Sender fiber and the yarn it will make! Entries are already being submitted for the competition, so dust off that spinning wheel, let your imagination run wild and watch the fiber fly onto the bobbin. The deadline for entries for Return to Sender is April 30, 2012.  Email r2scnch@gmail.com with any questions.
Return of Return to Sender Guidelines Now Available
For folks entering the Return of Return to Sender Challenge with projects created using yarn from the last conference, the submission date is April 15, 2012.  Guidelines for submitting the projects are now available by emailing r2scnch@gmail.com.  In general, make something where the yarn from the CNCH 2010 Return to Sender Competition is clearly visible and send it in!