Posted By Web Manager on June 22, 2012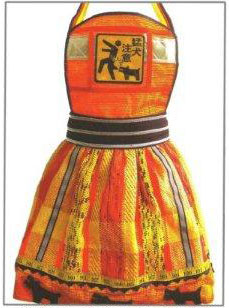 GOLDEN GATE WEAVERS GUILD
WEAVING ON THE WALL: RECYCLED AND NEW FIBERS
July 12 – August 31, 2012
EBMUD Oakland Administration Building
2nd Floor Lobby
375 11th Street (bet. Webster & Franklin)
Oakland, California
An Artist Reception will be held on
Thursday, July 19, 2012
4:00 – 6:00 pm
The exhibit is open to the public
Monday – Friday, 8:00am – 4:30pm
For more information call 510-287-0138
www.ebmud.com/art


Weaving is a very broad craft. Some weavers focus on technique, while others focus on design. Some weavers focus on utilitarian pieces such as clothing, pillows and rugs, while others focus on art pieces. Some members experiment with recycled materials, while others prefer more traditional materials such as silk, cotton, and wool. In this show we have combined a wide variety of weaving styles and displayed them on the wall to show the artistry in all our works.
Utilizing recycled materials has been a theme for many of our projects this past year. Sandy Drobny, was a Resident Artist at the San Francisco Dump for three months a few years ago. This experience led her to create some of the aprons shown here. Several of our members, inspired by her work, decided to experiment with using recycled materials for some of their projects. These materials include everyday items such as plastic newspaper bags, sponges , coffee filters, trouser material ,old sheets and old kimonos.
For other members of our group, the more traditional techniques of hand spinning and hand dying natural fibers provides the inspiration to create textiles that are both functional and beautiful. These include tapestries that are wall hangings, tapestries that are cushions , rugs, a hand dyed shawl , the ultimate recycling bags, silk scarves.
Established in 1938, the Golden Gate Weavers Guild (GGWG) is the oldest weaving Guild in California. It currently has about 30 members.