Posted By Web Manager on April 18, 2013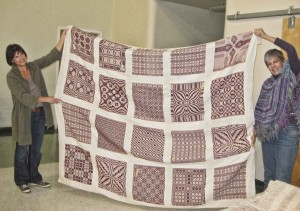 Note:  This is the story of a coverlet assembled by the Mother Lode Weavers and Spinners Guild.  It will be on display at CNCH 2013 in Squaw Valley.  Along with this story, will be a diagram showing the weavers and pattern names, when known, for each of the squares.
Jewel Wedegartner gave me the twenty squares that make up the maroon and cream coverlet in the Spring of 2011. She and Vic were in the process of cleaning out and selling years of weaving/spinning equipment and she handed me the box with the 20 squares, a file folder, which was filled with letters, notes on how the coverlet group came to be, names of participants, the patterns that everyone chose and source of yarn.   I had seen her blue and white one she had woven years earlier and heard a little bit about the Stockton Weavers Guild. So the coverlet squares that now belong to MLWS were not woven by Jewel, although the records were kept by her.