Posted By Web Manager on December 17, 2013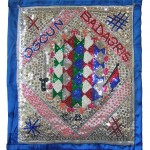 Haitian Drapo Vodou: Tradition and Innovation
A lecture by Susan Tselos
Saturday, January 19, 2014 – 10AM, Koret Auditorium, deYoung Museum, Golden Gate Park, San Francisco, CA.
The Textile Arts Council of the Fine Arts Museums of San Francisco is proud to present Haitian Drapo Vodou: Tradition and Innovation, a lecture by Susan Tselos, independent curator specializing in Haitian art.
The glittering sequined wall hangings that have graced the walls of galleries and the homes of art collectors for the last 30 years are examples of an evolving art form from the country of Haiti. These highly embellished art tapestries are a celebrated derivation of Haitian ceremonial flags, which have long been incorporated for use in traditional Vodou religious ceremonies. Originally created solely as sacred objects, the flags traditionally play an integral role in creating a sacred environment within a Vodou temple. In this sacred space a pantheon of spirits is invited to give spiritual counsel and healing to the believers of this time honored religion.
Susan Elizabeth Tselos has been traveling to Haiti for almost 30 years. During those years, she researched the material culture of the Vodou Religion and the use of costume and textiles within Vodou ceremonies and related celebrations in the vicinity of Haiti's capital, Port-au-Prince. Her original research has been published in African Arts from UCLA, and Undressing Religion and The Encyclopedia of World Dress and Fashion, both by Berg Publishers. She has curated numerous local exhibitions on the arts of Haiti for the Museum of Craft and Folk Art, the San Francisco Airport Museum, the UC Davis Design Museum and The San Jose Museum of Quilts and Textiles. For the past five years she has been supporting and sponsoring several of Haiti's steel drum sculptors from the renowned town of Croix-des- Bouquets to the prestigious Santa Fe International Folk Art Market.
She has a BFA in Textile Arts from the California College of Arts and Crafts, and an MA in Museum Studies from John F. Kennedy University.