Posted By Web Manager on February 11, 2015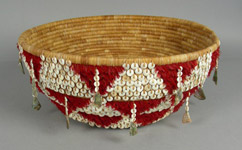 "Yesterday and Today" will compare 150 historic – seldom displayed – California Indian baskets from the Collection of the California Academy of Sciences with 45 contemporary baskets created by CIBA Master Weavers.
A major traveling exhibition of California Indian basketry, "Yesterday and Today,"will premier at "Art of the Americas" in Marin, February 20 – 22, 2015. The exhibition will demonstrate that California Indian basketry is the finest art ever produced in our state.