The first question in selling is why do any of us buy anything?  The answer, usually, is that what we buy makes us happy.  As the owner of Options Gallery, I look for objects and designs that look beautiful, that will consciously make people feel better, and that can be used and appreciated alone or within a setting of a particular style of aesthetics.
Although it may sound shallow, women as consumers just like things that are pretty and well-designed!  Anytime you walk into any space, you have a sense of whether it makes you feel good, or if there is something "wrong".  I try to ensure that each customer visiting Options Gallery will have an experience of well-being surrounded by a collection of wonderful artistry that will give them some 'ah-ha' moments of joy and discovery and a cultural sense of the artists I represent.  Our inventory rotates constantly, not just seasonally.  This ensures a fresh experience each time a customer returns to Options Gallery.  We carry greeting cards, rugs, scarves and clothing, fiber art, accessories for people and homes, wine glasses, reading glasses…there is something for everyone and, at any given time, there are thousands of items on display, each one unique.
Although I have lived in California over 40 years, I am originally from St Louis.  I have a BA in Interior Design from the University of Iowa and a teaching credential from Stanford University.   I have taught Special Education in Elementary school, been a waitress,  had a professional career in both residential and commercial interior design, raised a family,and…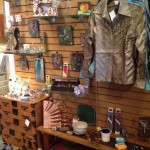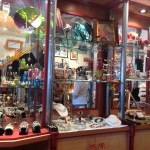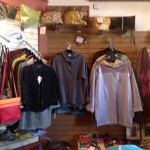 In 2004, I bought Options Gallery in Healdsburg, CA.  It already had an established customer base, great location near the town square, good infrastructure (inventory and systems), and I was able to overlap with the previous owner for one month.  I then gradually changed the style and direction of the store to better reflect me and my customers.  Sales doubled within a year.  I believe it was due to not only my strengths as a businesswoman/designer, but also being able to accurately assess and satisfy the demographics of our customer base. Our customer base is approximately 20% local from Healdsburg, 45% from the greater Bay Area, 30% tourists (who often return annually!), and then about 5% mail order or online orders.  65% of our customers are purchasing for themselves, and the other 35% are purchasing gifts for others.  Many customers do have budgetary consideration, but they are also willing to purchase items that are in a "reach" category.
It is a constant challenge to find new items.  I travel around the United States to a variety of craft and gift shows where I can meet artists closer to their home territory and bring their art to a new showcase.   I follow the American Crafts Council, the National Federation of Retailers, and network with other gallery owners across the country.  I also love supporting locally emerging artists, and feature many from Sonoma County.  My role at Options Gallery is not only to represent each artist but, also, to get to know each customer and their needs.  I try to facilitate a customer's shopping experience by understanding what brings them in,  if they are looking for anything in particular and, then, guiding them through the store and introducing them to things they perhaps had overlooked or hadn't considered.
I can also advise artists, based upon what customers tell me and through my travels, on the newest trends, buying patterns and real time changes in the marketplace.  I have the opportunity to have limited quantities of artist's works and present and sell them singly or combine them with other artist's work as a collection or a "look" for our customer.  Because we are open 363 days a year, (closed Christmas and Easter), customers know that they can return to the store anytime when they fall in love with an artist's style.  They can ask if there is anything else coming in the future, and contact us by phone or email to place an order.  And that it is convenient for them, and quite frankly, for the artist as well.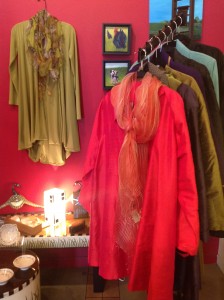 I have found that many artists love the creative side, but are not able to focus on the marketing, promoting and sales side of design.  Selling is a crucial skill.  When trying to make a sale, the buyer gives cues and  signals, and needs the right amount of  information customized to their questions.  While the object may be the same one, each beholder may see something different and have a different attraction that needs to be addressed  in order to have a successful sale.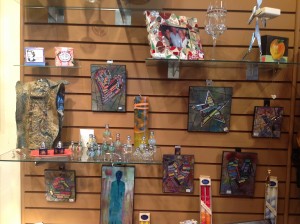 Artists have appreciated the partnership, guidance and support of Options Gallery. We ask that each artist provide background information about themselves and their work.  We help with the pricing of art, how to value their art in monetary terms, which can often be a difficult hurdle for artists.   There is a certain vocabulary and language and culture for each artist, and a slightly different variation of it for the customer.  I help with that translation.  For example,I can show a customer how to wear a scarf or  how a special little bowl might grace the entry of their front hall and be the perfect repository for their keys.  Many customers need help making a decision of what to buy and… I help with closing a sale.  The originality of all the pieces in our gallery reinforces the uniqueness of each one and that appeals to our customers when they are searching and have found the perfect item to purchase.
My recommendation for artists who want to make a living selling their work is to create their vision, write a business plan, outline a strategy for production, and understand their market.  Do a little bit of research: visit museums and inspiring stores of all kinds, try to view your work objectively and see who is your competition, believe in your work, refine your style,and never copy a design.  Keep your originality and style.  If you do decide to present your work through a gallery, call ahead and make an appointment.  Do not presume that your work will or will not be a good fit for the gallery.  Let the gallery owner describe their clientele. They are there every day and have a pretty good idea of what is selling and to whom.  Rehearse your presentation and how you will describe yourself and your work as well as your future and artistic goals.  It should take no more than 45 minutes.  Don't worry about creating tags and packaging as most galleries will take care of it or will advise you after an agreement is made.  All artists should have a short biography and description of their work.  People who buy original art want to know background information.   Most galleries take work on consignment (and 50% of the retail price goes to the gallery).  You need to decide if it is worth it.  In a gallery, an artist benefits from the exposure, the reputation of the store and using the cache of saying you are exhibiting and selling in a gallery.
I welcome you to stop by Options Gallery, and enjoy the delightful town of Healdsburg.  Remind me that you read this article in CNCHnet!
Options Gallery  126 Matheson Street, Healdsburg, CA
(707) 431-8861             optionsgallery.com
Click here to go to the next article