This  Spring my husband and I met up with five other couples for a reunion on the on the Scottish Borders. We women have known each other since we were students at a nursing school in London back in the mists of time. Jim, one of my friend's husband, had grown up in Kelsey and, knowing my weaving interests, organized a tour of the local wool mill which specializes in tartans. I could see this was not engendering great enthusiasm from the rest of the group, but Jim has a forceful personality!
The mill has managed to survive and prosper, probably with a combination of mechanization and tourist destination with an impressive showroom, store and tea room. We were assigned a tour leader and after leaving the bright comfortable show area we stepped into a huge, noisy, oily smelling factory. We passed the big steel vats and centrifuges where they somehow dye the fine wools and dry them on enormous cones.  There was really nothing to see of the process.
After the yarn was wound onto manageable sized cones it was placed in huge racks in the required color order ready to be wound onto the warping machine.
Next we moved over to the main part of the mill where the rows of looms were clattering away at a manic pace, each one churning out a beautiful tartan fabric. In this vast hall I  counted only four people..all of them fit young men who could climb around, on and between the machines.
The shuttle is thrown only half way through the shed where the yarn is grabbed by another shuttle from the other side. This cuts down the weaving time by half. It must mean each shed gets two threads.  Unfortunately, our tour guide recited her script and, as it was very noisy, it was almost impossible to ask any questions. The perpendicular multi-colored light is an alarm system for broken threads. This young man was kept busy the whole time we were there, moving from one loom to another, repairing warp threads.
The pink tartan is named for Princess Diana and the profits from selling it go to the charities she was involved in.  Who buys the fabric? Surprisingly, the answer was Middle East countries, especially Saudi Arabia.  Also Japan as well as many of the European countries and the U.S., of course. Besides tartan they made some spectacular plaids and are very aware of fashion change in color and design.
Our final stop was in a small room, closed off from the noise, where four ladies were sitting, each at a large table with "daylight" lights, examining all the fabric for any irregularity. With needle and thread they repaired broken threads in either warp or weft. They were a cheerful, friendly group and the only human sized operation in the mill. No pictures allowed. They clearly enjoyed their work and each others company.
After we had tea, Jim announced we had one more stop. He was anxious for us to see the other tartan mill in town. The others, again,  looked less than enthusiastic but we piled into our cars and headed over to the other side of the small town. Here was a dilapidated looking stone, barn-like structure.  We parked in front and he led the way into the dark interior and up the creaky wooden stairs.  Certainly this was not an approved tourist destination by the much reviled "Heath and Safety" E.U. Bureaucracy!  In the stairwell there were about thirty slightly rusty, long reeds leaning up against the window.
We were greeted by Jim's friend, (Jim had gone to school with his dad). There were four looms, all silent. However, two of them had very handsome looking tartans on them and a third had an interesting looking twill patterned fabric. He only ran the looms in the mornings when he had an assistant.  It was all very Victorian with wooden floors and very old machines for warping, threading and winding.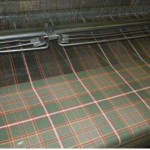 It was quiet so he was able explain that he has a niche market. The big mill produces about a hundred tartan designs.  However,there are quite a lot more and people who are passionate about having their own design. He does smaller quantities of anything his customers ask for. He also makes other fabrics which he designs himself, some of them looked handwoven. We connected immediately as fellow fiber addicts. We discussed patterns and design and fibers and problems and triumphs. We could have gone on for the rest of the day, he was one of us!….. but the others got very restless, they hadn't a clue what it was all about.
The fabric in both places was spectacular. It would have been interesting to talk to the designers. Once out of their hands the process is is no longer a creative process but a combination of machine engineering and maintenance. It bears little resemblance to our experience. It's definitely worth a visit though, then you can go home and appreciate your own manageable weaving world!