Off the Grid
A workshop with Elisabeth Hill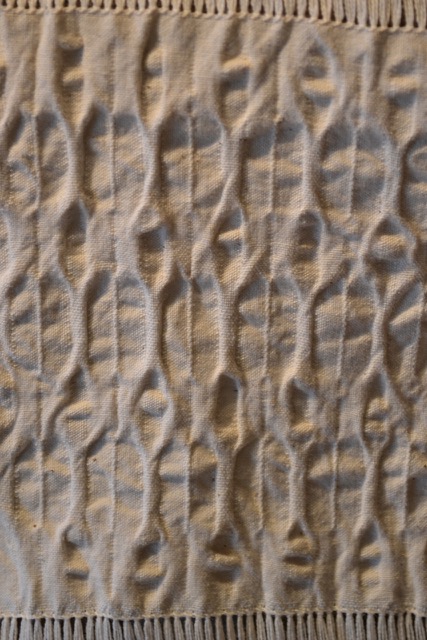 Feeling hemmed in by the ho-hum of parallels and perpendiculars? Join Lisa on an adventure out of the straight and narrow! In an on-loom round robin format we will weave multiple samples in 4 and 8 shaft structures that allow the warp and weft to shift and move, creating a dizzying array of curves, undulations and textures. Each participant will be mailed a warp in a different fiber/structure with full instructions for dressing. In class we will weave samples and variations, learn techniques and tips for weaving these structures, learn how they are related to one another and reinforce our understanding with drafting exercises. We will also examine and discuss a wide array of fabric samples in class.
Skill level:

Must be able to warp a loom and be able to read a draft.

Student material fee:

$50.00

Materials list:

pre-warped loom (4-8 shafts), writing materials, 2 shuttles, 4 bobbins and miscellaneous weaving supplies such as scissors, measuring tape, tapestry needle, etc.

Instructor biography:

Elisabeth (Lisa) Hill has been weaving for over 20 years and completed a 6 year Master Weaver program at Hill Institute in Florence, MA, in 2012. She is the program chair of the Weavers of Western Massachusetts, a faculty member at Vavstruga Weaving School and one of a team of tech editors for Handwoven Magazine.